Donate now to support the LLIFLE projects.
Your support is critical to our success.
Since 4 Aug 2013
sponsored link
Sedum sediforme
Actas Mem. Prim. Congr. Nat. Esp. Zaragoza 1908: 246 1909.
Family: CRASSULACEAE
Sedum sediforme Photo by: Amante Darmanin
Blooming habit at Dingli cliffs, Malta.
Origin and Habitat: Mediterranean region from Portugal to Balkan Peninsulas and Morocco to the Asia Minor (Syria, Israel). Doubtfully established in eastern North America. Type locality: hills of Baux, France.
Habitat and ecology: Sedum sediforme is found on roadsides, embankments, cliffs, and other dry places, on the coast or inland such as: rocks, walls and stony places, largely on calcareous soils and clay.
Synonyms:
See all synonyms of Sedum sediforme
Accepted name in llifle Database:
Sedum sediforme
(Jacq.) Pau
Actas Mem. Prim. Congr. Nat. Esp. Zaragoza 1908: 246 1909.
Synonymy: 20
Common Names include:
ENGLISH:
pale stonecrop
ARABIC ( لعربية ):
سدم طويل
CATALAN (Català):
ungla de gat, raïm de pastor, crespinell gros
FRENCH (Français):
Orpin de Nice
GERMAN (Deutsch):
Nizza-Mauerpfeffer
ITALIAN (Italiano):
Borracina di Nizza
SPANISH (Español):
uva de gato, uva de pájaro, uvas de lagarto, uvas de pastor, uvas de pájaro, uvilla de lagarto, uvillas, uña de gato, uña de lagarto, uña de pajarillo, uña de pajarito, uñas de gato, uñas de león, uñas gatas, vinagrera, arroz, corre que te pillo, crespinillo, cuchilla de monte, cuchilla fina, gurulillo, hierba puntera, pan de milano, pie vilano, pinillo, pinillo de lagarto, siempreviva, sierra de cazorla, uva de Nuestro Señor
SWEDISH (Svenska):
Iberisk fetknopp, Iberisk fetknopp
Description: Sedum sediforme is a robust glabrous perennial succulent herb. This species of stonecrop produces several short, leafy but non-flowering shoots as well as long, erect, fleshy flowering stems that become woody at the base. The thick, waxy-glaucous or green leaves are lance-shaped and flat on one side, and taper to soft, spinescent tips, but often fall off by flowering time. The greenish yellow, star-shaped flowers have many yellow stamens, and are produced in heads that i uncurl to become almost flat-topped.
Stems: Ascending or decumbent, often basally woody, non-flowering shoots. Floriferous stems erect from beginning, not nodding in bud, 25-60 cm tall.
Leaves: Imbricate, oblong or elliptic tapering to soft, spinescent tips (mucronate), semiterete and often somewhat flattened above, spurred, to 5–20 mm long, and 1.8–4 mm wide, glabrous, dark green and often glaucous and waxy.
Inflorescence: Terminal corymbs with 3 - 8 monochasial branches, glabrous, erect and subglobose in bud, with strongly recurved branches. Bract absent.
Flowers: The flowers are hermaphrodite (have both male and female organs), and are (5- to) 6- to 8- (to 9-) merous, sessile or subsessile, 9–13 mm. in diameter. Sepals basally fused, ovoid to triangular, equal, mucronate, 1.5-3 mm long, glabrous, green. Pet free, elliptic-oblong or oblanceolate, greenish-white or cream-coloured, 5-8 mm, and 1.5–2 mm wide spreading. Filaments white, basally papillose. Anthers yellow. Nectar scale transversely oblong.
Fruits (follicles): Erect, stramineous to dark brown.
Seeds: Oblong, brown, costate.
Chromosome number: 2n = 32, 40, 48, 56, 60, 64, 80, 96, 128, ca. 144 and 176
Bibliography: Major references and further lectures
1) Urs Eggli "Illustrated Handbook of Succulent Plants: Crassulaceae" Springer Science & Business Media, 06 December 2012
2) Robert Theodore Clausen "Sedum of North America North of the Mexican Plateau" Cornell University Press, 01 Jan 1975
3) Neil Fletcher "Mediterranean Wildflowers" Dorling Kindersley Ltd, 01 May 2008
4) Jaakko Jalas, Juha Suominen, Raino Lampinen, Arto Kurtto: "Atlas Florae Europaeae. Distribution of Vascular Plants in Europe. 12. Resedaceae to Platanaceae". Akateeminen Kirjakauppa & Tiedekirja, The Committee for Mapping the Flora of Europe & Societas Biologica Fennica Vanamo, Helsinki 1999
5) Plants For A Future "Sedum sediforme – (Jacq.)Pall." http://www.pfaf.org/USER/Plant.aspx?LatinName=Sedum+sediforme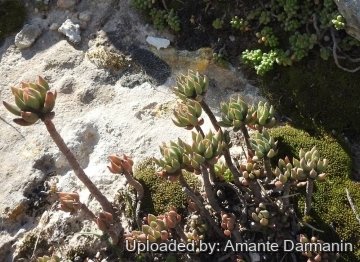 Sedum sediforme. Growing habit at Dingli cliffs, Malta. 10/1/17
Photo by: Amante Darmanin
Sedum sediforme flowers at Dingli cliffs, Malta.
Photo by: Amante Darmanin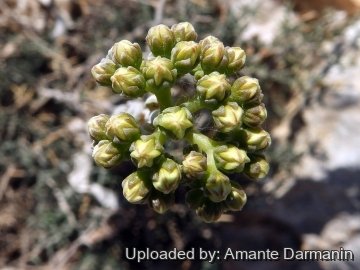 Sedum sediforme buds at Dingli cliffs, Malta.
Photo by: Amante Darmanin
Send a photo of this plant.
The gallery now contains thousands of pictures, however it is possible to do even more. We are, of course, seeking photos of species not yet shown in the gallery but not only that, we are also looking for better pictures than those already present.
Read More...
Cultivation and Propagation: Sedum sediforme is a succulent perennial sedum, with yellow flowers. It is a robust and extremely tough plant. It is sometimes cultivated as an ornamental rock garden plant or in border fronts. Best used in areas where unusual foliage texture and colour are appreciated. As a long-day plant it grows vegetatively for most of the year and dainty, airy white flowers bloom in midsummer. Moderately drought tolerant, it is reliably hardy and provides interest year round, and needs only minimal care to reward you with its attractive texture. Be aware when planting that the amount of sun and water this plant receives also affects the colour of the foliage.
Exposure: It cannot grow in the shade. It prefers light shade with ample airflow rather than full sun, except in cool coast-side locations. Bright light is required to prevent "stretching" of Sedums ("stretching" occurs when a moderately fast growing plant such as an Sedum, is grown in dim light or over-fertilized, which causes overly lush growth that contributes to weak, pallid plants).
Waterings: Sedum sediforme is able to tolerate dry periods and survive drought without the need for watering, but it will grow stronger if they receive adequate moisture during its growing season, but never allowing the plant to remain waterlogged (root rot sensitive). Avoid overhead watering under humid conditions, especially during winter.
Soil: It is essential in cultivation to use a very porous soil, which will allow quick drainage.
It adapts to light (sandy), medium (loamy) and heavy (clay) soils, and is suitable for acid, neutral and basic (alkaline) pH. Sedums are shallow rooted plants, and therefore benefit from good levels of organic matter in the soil. Give it enough root space for optimum growth.
Ventilation: Good air movement is important for minimising pest and disease risks, and avoiding excessive humidity in cool winter conditions is important to successfully growing Sedums in the nursery environment.
Hardiness: Cold-hardy, it can take overnight temperatures to -25 C however, the ideal temperature range during the summer growing season is 5-25°C, with the cooler autumn temperatures tending to make their foliage colours become more intense than those of the active summer growing season.
Pests and diseases:* Aphids like this plant (and all flowering sedums).
Edible Uses: The leaves are cooked. Although not poisonous, if large quantities of this plant are eaten it can cause a stomach upset.