Donate now to support the LLIFLE projects.
Your support is critical to our success.
Since 4 Aug 2013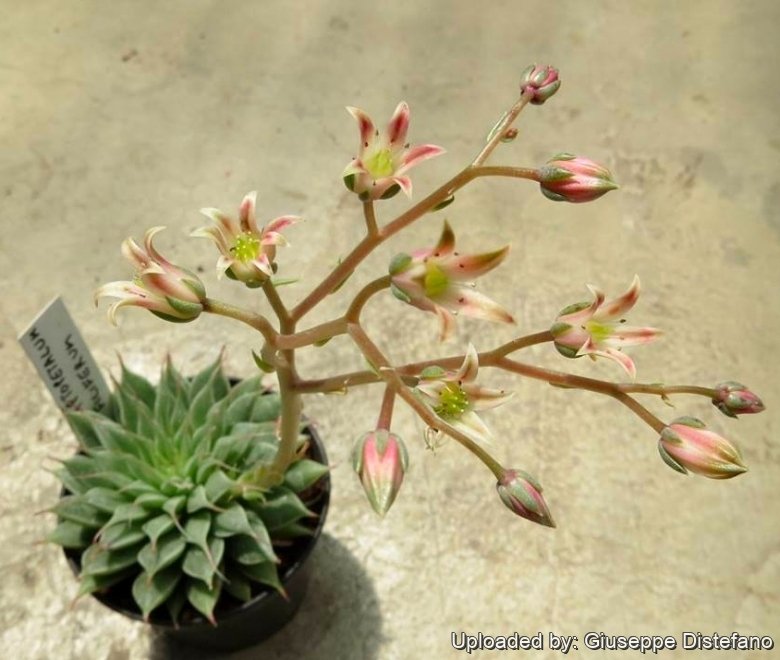 Graptopetalum filiferum Photo by: Giuseppe Distefano
Origin and Habitat: Mexico, Chihuahua.
Synonyms:
Common Names include:
ENGLISH:
Stonecrop
Description: Graptopetalum filiferum, a member of Stonecrops (Family Crassulaceae) is an extremely interesting little succulent plant with a rosette of thick fleshy leaves resembling a large Sempervivum. Each leaf is tipped with a fine red filament.
Habit: Perennial, stemless, succulent herb forming flat rosettes, slowly clustering, and forming large mats with time.
Individual rosettes: 5-10(-15) cm in diameter almost flat to the ground, with about 75-100 leaves densely shingled, recurving downward with a bristle at the end, and forming a symmetric silver-green mound.
Leaves: Each leaf is glabrous, fleshy, spatulate to triangular, slender, arching, about three times as long as broad, light green, rather greyish, and characteristically pointed with wispy brownish-red bristles at the tips, and can vary in shape. Leaves turn pinkish yellow in hot, dry conditions and blue-grey when pampered with partial shade and regular water.
Flowers: White spotted red. It shows the characteristic mottled petals which make the flowers of this small genus extra appealing.
Notes: Graptopetalum filiferum hybridize easily with several others Graptopetalum species and also with plants of other related genera like Echeveria, Pachyphytum, Sedum and possibly others. Intergeneric hybrids between species are commonly found in cultivation.
Bibliography: Major references and further lectures
1) David Squire "Photographic Encyclopedia of Indoor Plants" Gallery Books, 1991
2) Alfred Byrd Graf "Tropica: color cyclopedia of exotic plants and trees for warm-region horticulture--in cool climate the summer garden or sheltered indoors" Roehrs Co., 1986
3) James Cullen, Sabina G. Knees, H. Suzanne Cubey "The European Garden Flora Flowering Plants: A Manual for the Identification of Plants Cultivated in Europe, Both Out-of-Doors and Under Glass" Cambridge University Press, 11/Aug/2011
4) Urs Eggli "Illustrated Handbook of Succulent Plants: Dicotyledons" Volume 2. Springer, 2002
5) Heidrun E.K. Hartmann "Illustrated Handbook of Succulent Plants: Aizoaceae F-Z" Springer, 2002
Graptopetalum filiferum
Photo by: Giuseppe Distefano
Graptopetalum filiferum
Photo by: Giuseppe Distefano
Cultivation and Propagation: Culture of Graptopetalum filiferum is fairly straightforward, it needs more shade than others in the family however it can tolerate full sun (where it stay compact) but a much better exposure is shade to light shade. It is an attractive plant in the garden when used in mass or in pockets within a rock garden and also is an easy to grow houseplant; always a favourite carefree windowsill citizen, an excellent addition to any dish garden. The plant's origin will make its rosettes tolerate heat and drought.
Exposition: Likes light shade to part sun (it will take a few hours of sun without a problem), but adapts very well to shade too. Likes a bit of shade for best colour in leaves. It can overwinters well also under grow lights in a cool room of the house.
Soil: Although it needs a soil that is gritty and porous with good drainage, the soil must be able to hold the moisture that the plant requires. The ideal soil should contain equal parts of loam with small gravel added (e.g. pumice or lava grit). Good drainage is essential.
Watering: During the summer growing period the plant appears to need much more water than the average succulent. Water when plant is dry and do not water again until the soil is completely dry again. Dislikes over-watering. Pay particular attention to make sure that they do not rot at the root from soggy soil. In a very humid situation in winter, it can rot even if totally dry. It likes dry air as much as dry soil.
Fertilization: Fertilizer should be applied only once during the growing season, diluted to ¼ the recommended rate on the label. During October to March, water very sparingly, using only enough water to keep the foliage from shrivelling.
Hardiness: It requires low temperature for flower formation and it will not flower unless it is overwintered for at least a month at 15° C or less. It is usually recommended to avoid freezing temperatures, but it can withstand temperatures down to below -5° C (or less) for short period if dry.
Pests and diseases: The tightly-packed rosettes are attractive to mealy bugs.
Uses: Perfectly suited for planting in gravel gardens, paved areas, rockeries and small containers. Try mixing with other succulents and alpines.
Propagation: It is is propagated by the division of offshoots or by individual leaves, rooted in sand or in dry vermiculite, and seed.